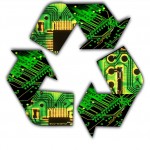 Universal Waste Handling Services
WastErasers provides for the safe and environmentally sound disposition of obsolete electronic equipment. WastErasers assists both OEMs and end-users in the reduction of their electronic equipment waste streams. WastErasers merges recycling expertise with logistics capabilities. This combination provides a solution to the growing problem of rapidly accumulating unwanted electronic equipment.
Recycling is not just a matter of recovering recyclable material; it's a total economic system.